Double Chocolate Fudge Cookies (Vegan)
This post is sponsored by Alter Eco Chocolate. Find more on www.alterecofoods.com.
Hiya! I think it's pretty clear by now that cookies are one of my all time favorites, considering I whip out a new cookie recipe every month, but like, can you blame me:? They are the superior treat and can do no wrong in my eyes. While I was visiting my family in the Czech Republic, I wanted to make them something they've never had.
For some context, my grandparents live in the mountains of northern Czechia and have never heard of, seen, or eaten a cookie. So I put on my big girl pants and an apron and went to work.
Because I'm crazy and also love chocolate, I brought in my luggage a huge bag of Alter Eco chocolate to share with everyone because it is the best vegan chocolate around, and I knew I wanted to bake something with it. I was in the mood to make some simple double chocolate cookies, but also wanted to spice things up a little.
Needless to say, I added some melted chocolate into the batter as well as olive oil and SHABAM - when these little suckers came out of the oven, they were the richest and chewiest cookies I have made. Like, ever.
So here I am, sharing them in all their glory.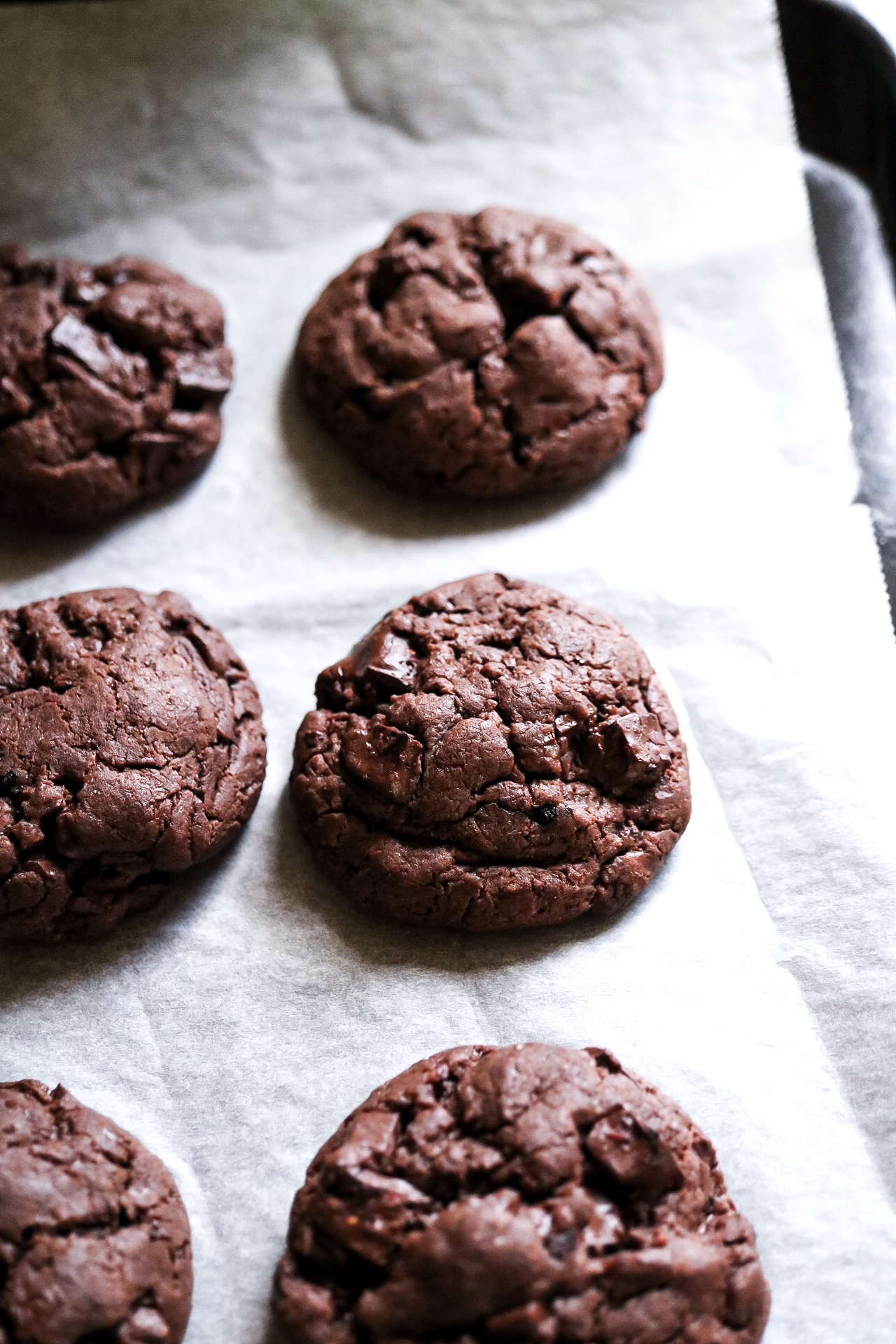 Double Chocolate Fudge Cookies
INGREDIENTS:
1 1/4 cup all purpose
1/4 cup cacao powder
1/2 tsp baking powder
1/2 tsp baking soda
1 tsp salt
1/3 cup olive oil
2/3 cup cane sugar
1/4 cup warm water
3 Tbsp melted Alter Eco dark chocolate
1 bar Alter Eco dark chocolate, chopped
INSTRUCTIONS:
Preheat your oven to 350F. Line a baking sheet with parchment paper and set aside. In a medium bowl, whisk together the flour, cacao powder, salt, baking soda, and baking powder. In another bowl, mix together the sugar, oil, melted chocolate and water. Combine the wet mixture to the dry, and fold in the chopped dark chocolate. Scoop your cookies onto the baking sheet using a cookie scooper, or a tablespoon. Bake for about 15 minutes, depending on how crispy your like the edges, and allow them to cool.