Chocolate Covered Bananas (Vegan + GF)
This post is sponsored by Alter Eco Chocolate. For more, go on www.alterecofoods.com.
I dunno about you, but in my eyes bananas can do no wrong. Frozen and blended? Delish. Baked into a mug cake? So good. Covered in peanut butter? The best snack.
So here we are - the easiest frozen treat around.
I know what you're thinking, and yes, it's almost October and Autumn (should) be in full swing. But guess what? I'm in North Carolina. And today it was 90 degrees outside.
I need sumfin cold y'all.
These banana pops are so goddamn easy to make, I feel like I shouldn't even have to make a recipe for it - but I also know that if I don't share this I will be withholding from you all from a very tasty treat that you could have been making this whole time.
Honestly, the only ingredients you need for this is bananas and chocolate - you can use whatever chocolate your prefer; I, as always, used my favorite dark chocolate from Alter Eco - their 90% super dark. It's rich. It's bold. It's delicious.
Now, the best part of these is the toppings - and that's totally up to you.
So get your nanas and choco and put on an apron because it may get messy.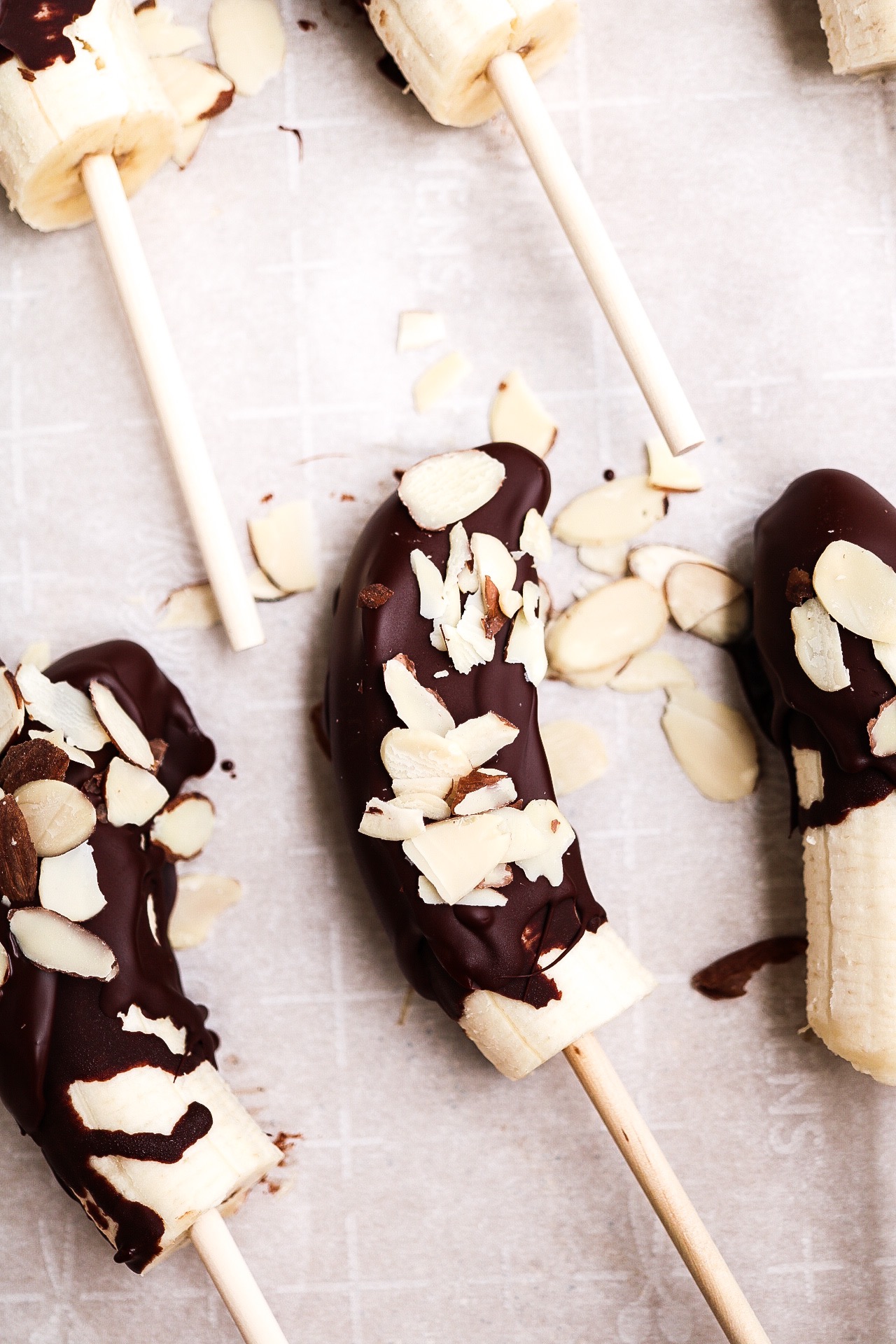 Chocolate Covered Bananas
INGREDIENTS:
3-4 bananas
1 bar melted chocolate
Popsicle sticks
Chopped nuts or seeds for toppings
INSTRUCTIONS:
Slice your bananas in half, and push through your popsicle stick about halfway so that the bananas have support and you can still firmly hold the stick in your hand. Line a baking sheet with parchment paper, and lay down your bananas. Roughly chop up your chocolate and either melt it in a bowl in the microwave in 20 second increments until the chocolate has fully melted, or melt over a double broiler until fully melted. Then, pour your melted chocolate into a shallow bowl or cup in order to dip your bananas in. Try to coat the bananas as much as you can, placing them on the baking sheet and allowing them to harden in the freezer for about 20 minutes before taking them out and dipping again. The double layer of chocolate is important! Once you've dipped the second time, sprinkle your choice of toppings on top and allow it all to set once more.